Virtual Bus 360 Q&A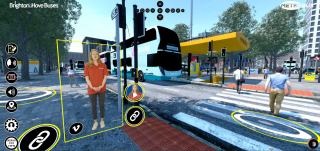 Welcome to the virtual bus Q&A's section. Here we provide answers to questions designed to make your experience of the VirtualBus360 even better. We will grow this section as and when we get feedback from people like you who are using the platform.
What device do I need to access the VirtualBus360?
You can access via your computer, laptop, tablet or mobile phone as long as you have access to the internet or a 4G connection.
Enter the VirtualBus360 here
You can watch a video on how to use VirtualBus360
Tell me about the user preferences in VirtualBus360 platform?
User preferences allow you choose the functions you want to use when in the platform.
All user preferences within the platform are switched on when you enter (including the text to speech)
Users can switch off the preferences which they don't require.
What are the user preferences within the platform and where are they located?
The following user preferences are located down the left hand side of the page, from top to bottom:
Yellow Hotspot Highlights - option for a yellow box 'highlight', clicking on this will highlight the object or person of interest. It also opens up any website page in a new window providing access to users with screen readers to use their own prefered text to speech.
Text to speech - Turn off/on - will automatically screen read the information written on the page.
Carousel Navigation - Hide/Show - this is another navigation tool located along the bottom of the screen. Clicking on one of these windows will automatically take you to any area within the virtual world.
Background Sound - Turn On/Off - option to mute all background sound. Videos will still play sound with this function switched off.
Navigation Buttons- Hide/Show - this can be switched off here with the functions available across the top of the screen.
Settings wheel - allows you to hide your preferences once chosen.
Bird's eye view- Go to - clicking this provides access to a bird's eye view to navigate entire platform.
If accessing the platform from a mobile phone you have the option to use the Gyroscope function, which you can use to look around on your phone,.
You can access a how-to video here
I need help accessing the platform. Can this be arranged?
Absolutely, we are very happy to help. If you contact our customer service team here we can arrange for someone to link with you.
Where do the links take me?
Multiple links take you to either Brighton & Hove Buses' website or Metrobus website. Links to Brighton & Hove buses are on the left of the parked buses and on the left of the individual who is speaking. Metrobus links are on the right.
By turning on the function of the yellow highlight box this will open website pages in a new window for users using screen readers. If the yellow highlight box is off this will open the website pages within the platform.
You will find other links that will take you to some of our partners, for example Possability People, Guide Dogs and Alzheimer's Society.
The VirtualBus360 platform doesn't work for me. Are you still offering face-to-face bus familiarisation?
Absolutely.
We will continue to provide our normal services, such as running on-bus familiarisation sessions. These can be particularly helpful for many passengers, including some passengers with sight loss who have been able to build their travelling confidence by practising on an out-of-service bus. Some scooter users have used this to practice driving their mobility scooter onto a bus.
If you would like to speak to our accessibility team, please contact Customer Services here
Face-to-face help is also still available at our travel shops and from our drivers. Our Customer Service colleagues answer inquiries through telephone, texting, email and social media. Accessibility champions will continue to attend community events.
You can also find up-to-date travel information on our website www.metrobus.co.uk and by downloading our app.
Its all about choice.
This platform is designed to create another way of accessing information about our buses to help you feel more confident when you travel. Once inside the virtual world, you can explore three buses and all the seating areas, including priority seating, wheelchair and buggy spaces, luggage racks, hand and grab poles and bells. You can also explore on-bus applications, including the loop system, Wi-Fi and next stop announcements.
Short films of customers and colleagues sharing travel and ticket information, advice and tips, as well as their own travel experiences, can be particularly helpful for customers using this as a confidence building tool.
Films have BSL and captions and there is also text to speech, instructional information and highlighting spots. This could be helpful for many passengers but we recognise this will not be suitable for everyone and therefore we will always provide other customer service assistance to maximise choice which includes face to face support.
Privacy policies
Our privacy policy when accessing our website
Privacy Policy for 4FInnovations- when accessing VirtualBus360
To access all films directly click here.
Where are the videos?
You can meet customers and colleagues throughout the platform. You can find the videos in these locations:
SuperHub 1
Sam talks about the Accessibility & Communities team
Superhub 2

Victoria talks about the accessibility features on board our buses
Thomas Highflyer - The true story of Thomas Highflyer

Behind the
Brighton & Hove E400 Bus
Superhub 5
Engineer Gethin talks about cleaner buses
Ramona from Customer Services on her bus journey
Superhub 11
Ramona from Customer Services on her bus journey
Julie from Crawley Borough Council on active travel & health

Brighton & Hove E400
Driver Jason on tickets and how to pay
Shirley's Journey - living with dementia & catching the bus
Bert & Shirley go all over Sussex with their concessionary passes
Student Nathan gets the bus to campus and out with friends
Anna and her family say how important the bus is for them

Brighton & Hove Wrightbus
Driver Lynn - how drivers can help passengers
Shirley's Journey - living with dementia & catching the bus
Grace Eyre - Travel Buddies confidence building scheme
Bobby from the Trim Shop on how the bus is cleaned
Graham talks about talking buses and Helping Hand cards
Vernon on LGBTQ+ services and bus travel
Ben and Matt say why they love buses

Metrobus Fastway Bus

Driver Kat - staycations and ticket deals
James on independent and accessible travel
Fran talks about Tap On, Tap Off & how she uses the bus
Is VirtualBus360 available via the WiFi on the bus?
Yes. Every customer has access to a maximum of 45 MB each day onboard our buses.
Learn more about our fee WiFi here
Thank you for using our platform. We hope you have found it helpful. We welcome any feedback you have, including suggestions for design improvements.
Please use the following attached form to share your experience of using the platform.
We've run on-bus travel training for adults with learning disabilities with local charity Grace Eyre since 2017.
During the training, people can go inside a bus, meet the driver and ask questions to help them learn new skills to build confidence and promote independent travel. In turn, we learn from the lived experience of participants and use this to improve the training we give our colleagues.
Check out the travel training video here
While working with Grace Eyre, we talked about how we could integrate real-life training into a virtual experience, accessible 24 hours a day, while retaining face-to-face training.
When Covid became everyone's new reality, travel patterns changed and even more services and events moved online.
We met 4FInnovations in 2020 when Disability Awareness Day held their event online for the first time. The online event, which was built by 4FInnovations, opened up the potential for virtual world travel training, while retaining real life world experiences, and we contacted the director, Phil, to collaborate.
4FInnovations is an agile team consisting of media specialists, 3D visualisation developers, virtual reality specialists; web designers, film makers, animators and motion graphic specialists. The company has worked on international projects, such as the Large Hadron Collider at CERN, the European Council for Nuclear Research.
Grace Eyre's Head of Travel Training Gary Cunningham:
"The level of thought and detail that has gone into this is absolutely fantastic. I can see endless potential and how I could add to your imagination with my own and create training scenarios and other educational resources based around this programme. Brighton & Hove Buses is once again showing it really is a company that supports inclusion and diversity with another innovative idea. I can't wait to include it within my training."
Phil Atkinson, Director 4FInnovations:
"4FInnovations have very much enjoyed working with Victoria, Martin and the great team at Brighton and Hove Buses and Metrobus, a forward thinking and community orientated organisation. Putting people, their accessibility needs and sustainability right at the heart of what they do, being 'not just a bus company'.
"These values are very much aligned to our values as an organisation with several of our own staff being neuro divergent with huge capabilities to create these virtual worlds. It also aligns well with 4wardFutures, the Careers Education Charity of which we are the trading arm, with all surpluses from our trading activities, such as our work on this Superhub project, going directly to support our charitable goals. Helping diverse groups of young people navigate and understand their passions and purpose alongside helping them in fulfilling their career potential in a rapidly changing technological world."
Acknowledgments
A huge thank you to all our customers and colleagues who helped design and build this virtual platform. Their lived experiences and travel tips really contributed towards the design and gave the virtual world the essential ingredient which brought this all together: the human touch.
Thank you also to all the organisations who have contributed through their continued partnership and support and have helped us improve the training we provide to all of our colleagues: Alzheimer's Society, Grace Eyre, Guide Dogs, Translink, Possability People, RNID, Bus Users UK, Brighton & Hove Speak Out and Switchboard.
Finally thank you to Phil, Jason and the team at 4FInnovations who listened to feedback our customers, colleagues and partners' experiences and incorporated these into the design of VirtualBus.