Virtual Bus 360 Videos
#VirtualBus360 Videos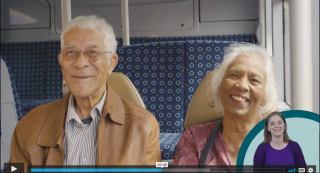 Meet some of our customers, colleagues and partners who are keen to share their travelling experiences and tips in 22 separate videos. The videos and online information cover all aspects of bus travel, including accessibility, tickets and payments, real-time bus information, environmental and technological features.
All videos have BSL and are captioned.
To activate the captions, click on the CC button on the bottom left-hand side of each video.
Everyone in the videos was filmed without a face covering to make the platform accessible for people lip reading. The camera person wore a face covering at all times and only those being filmed were on board the bus, which was also well ventilated.
You can access the video within the #VirtualBus360 platform here or link to each video below.
Introduction and how to videos
How to video - how to use the applications in VirtualBus360
Aboard the Enviro400 bus
Nathan - seated in the priority seating
Bert and Shirley - sitting in the priority seating
Family group - Sitting at the back on the lower deck
Behind the Enviro400 bus - by the engine
Gethin - behind the bus by the engine
Aboard the Streetdeck
Lynn - driving the Streetdeck bus
Vernon - sitting by the priority seats
Graham - standing by the wheelchair priority space
Bobby standing next to the priority seating
Ben and Matt - seated at the back on lower deck
Aboard the Fastway
Fran - sitting next to middle doors
James - Seated in the wheelchair priority space
By the ramps on all buses
Ramp video - by all ramps on buses
Within the Superhub - these videos have signed options and also green-screened options
Sam - Superhub 1 - at the start
Victoria - Superhub 2 (next to the Enviro400 bus)
Ramona - Superhub 5 - near the front of the StreetDeck
Julie - next to the Metrobus Fastway
Other videos
Shirley's Journey - on board the Enviro400 and Streetdeck
Thomas Highflyer - Below destination screen of the Enviro400