Superhub 360
#Superhub360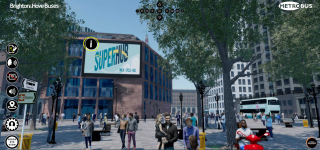 This superhub is our first step in a vision for the future of integrated and sustainable travel. This exciting and totally new platform demonstrates through a virtual world how we can integrate all forms of sustainable travel with accessible information and excellent facilities designed to suit the needs of everyone. Our virtual space explores the current thinking around mobility hubs for busy central locations that aims to dramatically improve a traveller's experience. VirtualBus360 showcases our excellent on board features, as they are today, combined with a vision of a super mobility hub for the very near future.
The hub vision is designed with all forms of sustainable transport in mind and isn't based on particular geographical area. It offers all travellers large shelters in which to relax, more comfortable seating, enriched digital information, Wi-Fi, USB charging points, a low carbon parcel drop-off and collection point, toilets and refreshment areas, green bus stop roofs and solar panels. This is a place where the hub positively contributes to biodiversity and carbon reduction. To take a look around click here.
From the hub you can get on board three different virtual buses. You can find out about bus services first hand from our customers, bus drivers and customer service colleagues, as they share their own travelling experiences, tips and advice through 23 short BSL films.
Plus, there's an abundance of useful information available in bite size chunks that cover every aspect of bus travel including accessibility, tickets and payments, journey planning, real-time bus information and environmental and technological features.
If you haven't been on a bus in a while, then take a look around. You can check out priority seating, spaces just for wheelchairs and buggies, the manual ramp, luggage racks; handrails and grab poles. Find out more about the hearing loop system, GPS tracking, CCTV, USB charging points, anti-virus air filters, Wi-Fi and next stop audio and visual announcements - you can even ring the bell. To hop on board click VirtualBus360.