Concessionary Travel Information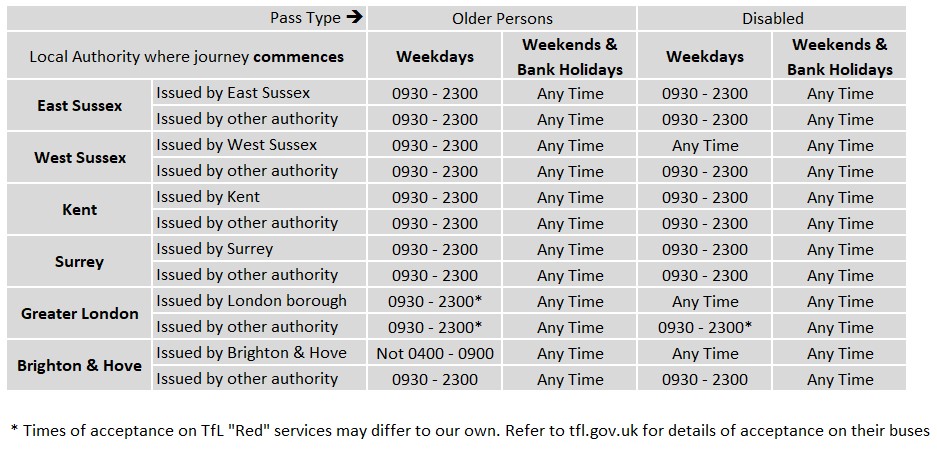 Holders of English National Concession passes receive free travel, subject to time restrictions. For details on obtaining a pass please visit the following links:
Pass holders obtain free travel on almost all bus services in England between 0930 and 2300 on Mondays to Fridays and at any time on Saturdays, Sundays & Public Holidays.
Pass holders boarding in the following areas have additional entitlements:
West Sussex
Disabled pass holders from West Sussex can board a bus in West Sussex at any time.
Surrey
Disabled passholders or disabled companion pass holders can board a bus in Surrey for free between 0930 and 2300 on weekdays and any time at the weekend and on public holidays.
Brighton & Hove
All concession pass holders from Brighton & Hove can board a bus in Brighton & Hove at any time except between 0400 and 0900 on Mondays to Fridays.
From 1st April 2020, Brighton & Hove City Council residents with a Disabled Person's Bus Pass will be able to use the pass in Brighton & Hove all day during weekdays as well as weekends.
Please note: Ticket machines are programmed to accept a variety of cards and passes. We recommend storing credit and debit cards separate to smart cards, concessionary passes and mobile tickets to avoid accidently paying with the token. This happens very rarely
On the rare occasion that a credit or debit card is accidently scanned instead of a pass or mobile ticket, please contact customer services who will issue a full refund.