Women in Bus Network
The Women in Bus network launched in 2019. The purpose of the network is to create an authentic workplace where women feel free to bring their true selves to work and to help support the women already in the industry as well as encouraging more women to join.
There is a companywide Go-Ahead target to increase female representation in bus from 11% to 20% by 2025. The network provides visible role models to colleagues and provides a forum for women to raise issues, share experiences and support each other.
At Brighton and Hove & Metrobus we have launched the Women Behind the Wheel campaign and other companies within the Go- Ahead group have designed apprenticeship schemes to encourage more women into the bus industry.
We are very fortunate at Brighton & Hove and Metrobus to have Rebecca Kite working for us. Not only is Rebecca a driving instructor, she is also Vice Chair for the Women in Bus network for the Go-Ahead group.
To read more about Rebecca's journey from trainee bus driver to driving instructor and Vice Chair for the network, scroll on.
We are also delighted to announce that we have two everywoman in Transport & Logistics finalists working at Brighton and Hove & Metrobus.
Kirstie Bull, Operations Manager at Conway Street Depot is a finalist for excelling in her role for customers and Vicky Doyle, Head of Marketing and Communications as a finalist for the title of Industry Champion. We find out the results in October and wish them both the best of luck.
Rebecca's story - from trainee driver to Vice Chair of the Women in Bus network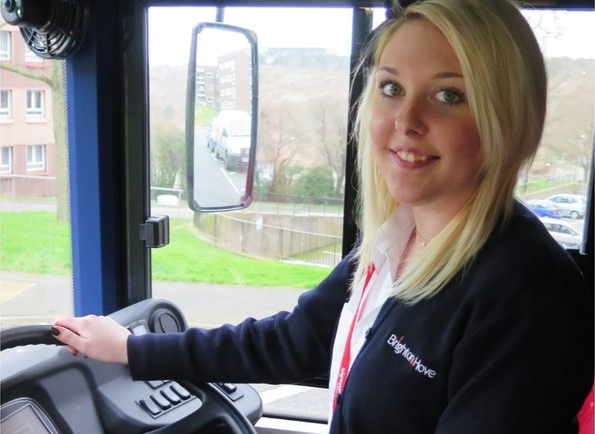 Hello, my name is Rebecca Kite I am one of the driving instructors here at Brighton & Hove and Metrobus. I started off my career in 2013 at the age of 18 when I began my training. I had always dreamed of becoming a bus driver since a young age and I passed my test just after my 19th birthday making me the youngest driver in the company at the time. I loved driving around our beautiful city and meeting everyone.

I became a driver mentor in 2015 helping new drivers with learning new routes and how the ticket machines worked. In 2018 I became a full time instructor at the age of 24 making me the youngest driving instructor. My job has always been my passion and I feel very lucky to be living my dream.

When I became a bus driver I was very shy and timid. I have grown so much as a person since becoming a bus driver and in my personal time I was awarded the titles of Miss Brighton 2018, Miss Sussex 2019 and more recently the national title of Miss Mystic Beauty. The industry has really helped me become who I am today.

In late 2019 I was appointed to the position of Vice Chair of the 'Women in Bus' network for the Go-Ahead group and feel very honoured. My role is to support the Chair, Sophie Moorby with official duties such as organising network meetings and being an advocate both internally and externally. I am hoping the network will inspire and empower other women to join our bus companies.
If you would like to find out any more information, please email rebecca.kite@buses.co.uk